Staples Center, Los Angeles - In a WBC middleweight eliminator, Carlos Adames (21-1, 16 KOs) won a tough ten round majority decision over Olympian and world title challenger Sergiy Derevyanchenko (13-4, 10 KOs). (photos by Esther Lin, Ryan Hafey)
The scores were 95-95, 97-93 and 96-94 for Adames.
Adames was boxing well for most of the first, as Derevyanchenko was sizing him and figuring out his style. In the second, Adames continued to box well as a leftie. He landed several damaging punches and appeared to buzz Derevyanchenko. Adames was working him over, before Derevyanchenko bit down and decided to fight fire with fire.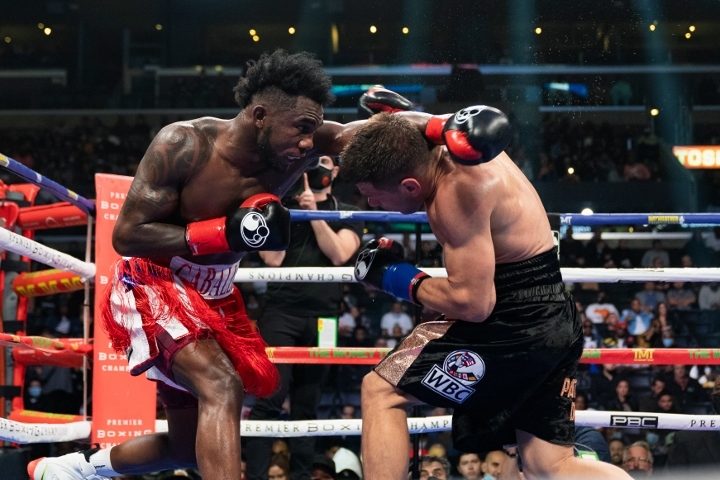 In the third, they were trading hard shots at close range. The faster Adames switched back to orthodox and was landing well. Derevyanchenko was always dangerous and trying to break down the distance. At the start of the fourth, Adames appeared to stun Derevyanchenko with a good hook. Adames was making him miss often and then making him pay. The angles by Adames was giving Derevyanchenko a lot of problems.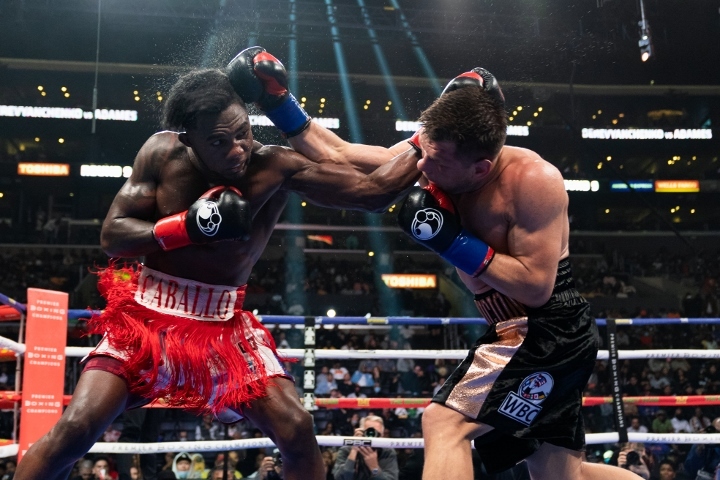 Derevyanchenko was rallying in the fifth. He was bring the fight to Adames and throwing a lot of punches and doing damage. The sixth was an even round where both worked hard, Derevyanchenko was pushing Adames back and pushing the pace. They continued to fight in close in the seventh. Adames appeared to outhustle Derevyanchenko with rapid shots.
The pace slowed down at the start of the eight. There was a lot of holding by Adames as Derevyanchenko pressed forward. Adames rallied in the closing moments with big hooks. They were trading heavy shots in the ninth. Adames had a big final minute with accurate hooks connecting. In the tenth, Derevyanchenko went right after Adames and was trying to close very strong. Adames was doing well to hold him off by wrestling on the inside and landing quick punches. They exchanged shots for most of the final minute.