Wembley Stadium, Wembley - For the IBF flyweight title, Sunny Edwards (20-0, 4 KOs) picked up a twelve round unanimous decision over previously undefeated Andres Campos (15-1, 4 KOs). (photos by Mark Robinson)
All three judges scored it 117-111.
A very active start by first. Edwards had the edge and connecting more often, but Campos was doing good work. The edge for Edwards as he boxed in the second, but Campos really rallied with punches in the third.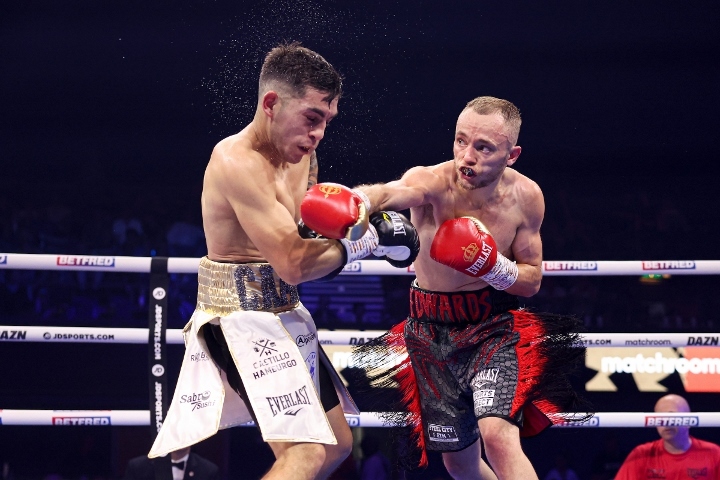 In the fourth, Edwards was allowing Campos to push him back to the corner and let his hands go, but Edwards was countering and landing the flashier shots. In a close fifth, Edwards rallied with a lot of punches in the final seconds. The sixth had Campos doing a lot of work when he pinned Edwards to the ropes. Edwards blocked most punches, but still go tagged a few times and was under fire.
Edwards went back to boxing and jabbing in the seventh. He wasn't engaging as much and looking to outbox Campos. The eight had Edwards outworking Campos, who wasn't being busy enough. In the ninth, Edwards was digging often to the body and made Campos work hard for every landed shot in a close affair.
The tenth was give and take, with Campos chasing after Edwards and looking to do damage. Edwards was basically in a safety-first mode. In the eleventh, Campos came out pressing and firing. The action as close with both having moments with connects. Edwards had the edge with moving and pot-shotting. The twelfth and final round had Campos quickly pun Edwards to the ropes and let his hands go. Campos sensing that he needed to close strong. He was unloading over and over, with Edwards not firing back as much until the final minute.