By Ron Lewis - Anthony Joshua had a 23-pound weight advantage over champion Oleksandr Usyk at Friday's weigh-in for their WBA, WBO and IBF heavyweight title clash at the King Abdullah Sports City Arena in Jeddah. (photos by Mark Robinson)
Joshua weighed 244½ pounds, while Usyk weighed 221 pounds 10 ounces as they met on the stage at the arena where the fight will take place.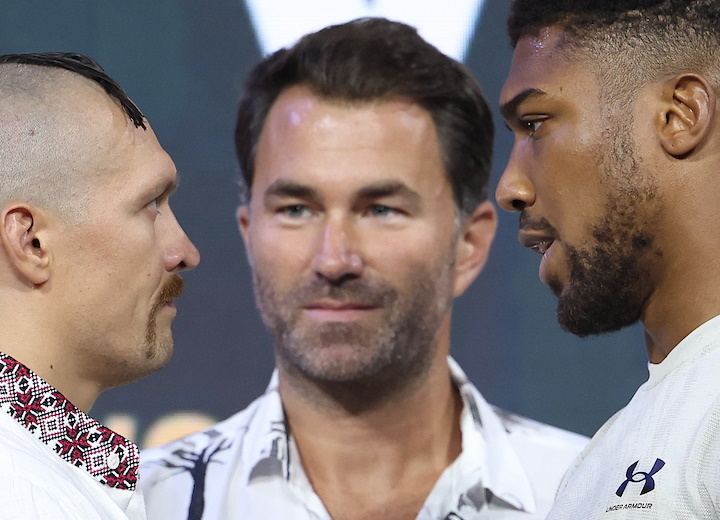 Both defied expectations, with rumours suggesting Joshua would be lighter than last time and Usyk significantly heavier. While it was a career high for Usyk, it is less than a pound more than their first fight.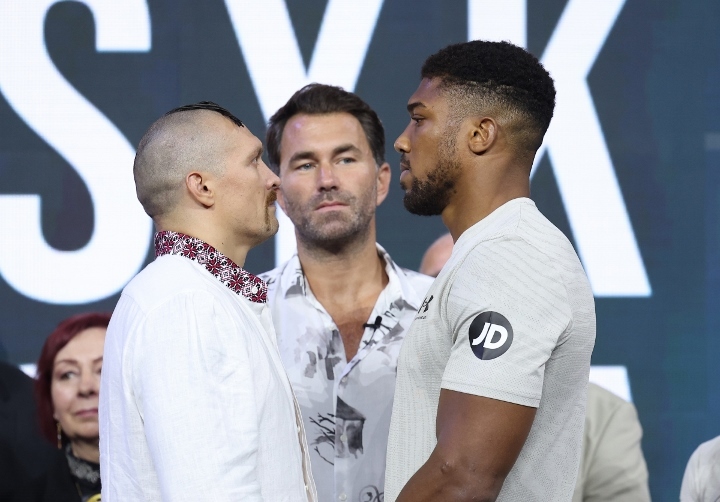 For their first meeting in London last September, Joshua scaled 240 pounds, while Uysk was 19 pounds lighter.
"Your expectations are not met every time," Usyk told Sky Sports' Andy Scott when asked about his weight.
The pair stared at each other for nearly two minutes as they stood face-to-face before sharing a handshake.
"For me face-offs don't mean anything, face-offs don't win fights," Joshua said.
"All this stuff doesn't matter I am just looking forward to the fight. I'm 100 per cent ready for 12 rounds and anything less is a bonus."
Filip Hrgovic scaled 243 pounds for his IBF heavyweight final eliminator against Zhilei Zhang, who came in 34 pounds heavier at 277 pounds.
"I'm ready," Zhang said. "This is my event, it's Chinese power. Tomorrow he is going to go to sleep."
Callum Smith had a quarter-of-a-pound advantage over Mathieu Bauderlique as he scaled 175¾ pounds for their WBC super-middleweight eliminator.
"I feel good, I feel strong at this weight," Smith said. "I became a world champion in here but that means nothing now, I have new goals. When I am good, I can be the best in the world."
Meanwhile, Badou Jack, the 38-year-old former world super-middleweight and light-heavyweight champion, weighed just over 199 pounds for his cruiserweight meeting with the unbeaten Richard Rivera.