Manchester Arena, Manchester - WBA light heavyweight champion Dmitry Bivol (18-0, 11 KOs) ended a long stint of inactivity with a twelve round unanimous decision over a game Craig Richards (16-2-1, 9 KOs). (photos by Mark Robinson)
The scores were 118-110, 115-113 and 115-114.
Bivol was fighting for the first time since his decision win over Lenin Castillo in October 2019.
Richards was coming off a career best victory, a knockout of Shakan Pitters in nine rounds in December.
Bivol started the fight by pressing forward with a hard jab and pushing Richards back. In the second, Bivol began to pick up the pace with harder punches starting to land. Richards was becoming an easy target and not doing much to get the champion's respect.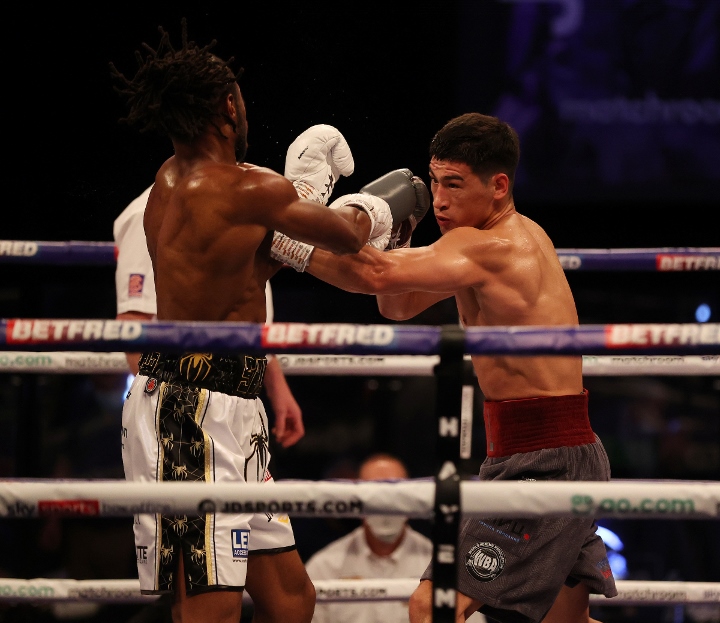 Richards continued on the back-foot in the third, throwing a jab that Bivol was blocking for the most part. Richards managed to land a good right hand, which forced a big response of punches from Bivol. In the fourth, both were working away with the jab, Bivol had the edge with the more accurate shots.
It was a chess match in the fifth, with a give and take boxing match. Bivol was outlanding the challenger. Bivol stepped on the gas in the sixth and seventh, as he was connecting more often and with harder punches. More of the same in the eight and ninth, with Bivol having the edge in a boxing match. In the tenth, once again Richards landed a good shot and once again Bivol fired back with an arsenal of shots.
Richards was game and in the fight, as they fought on even terms in the eleventh. Bivol was picking his punches well and setting up traps in the closing moments. It was more of the same, for the most part, in the twelfth and final round.