Tottenham Hotspur Stadium - WBC heavyweight champion Tyson Fury (33-0-1, 24 KOs) beat up and stopped Derek Chisora (33-13, 23 KOs) in the tenth round. (photos by Mikey Williams, Queensberry)
They met for the first time in 2011, with Fury winning a dominant decision over twelve. The rematch, in 2014, saw Fury pound Chisora for a stoppage victory in the tenth.
Next up for Fury is a possible undisputed fight with WBO, IBF, IBO, WBA champion Oleksandr Usyk in early 2023.
In the first, Chisora out winging big punches at Fury. Fury was doing a lot of holding to nullify Chisora. Fury began to let some punches go as Chisora charged in. Several uppercuts landed on Chisora.
During the second, Chisora landed a solid right early. Fury took it and landed solid punches from a distance. There wasn't much Chisora could do, with Fury landing solid punches and holding Chisora when he tried to charge in. Chisora was rocked at the end of the round and punished against the ropes.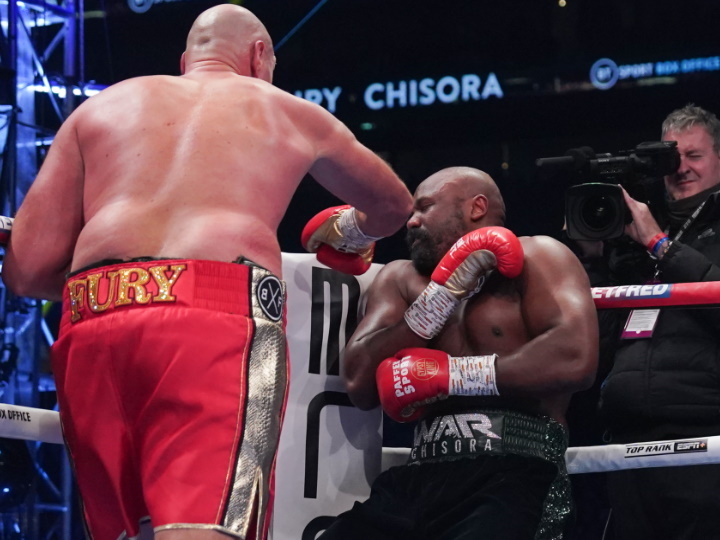 At the start of the third, a right hand hurt Chisora. Fury was picking his shots, tagging Chisora with heavy punches. Chisora was holding and trying to land wild shots that were missing. In the fourth, Chisora came out and landed a solid right. Fury was taking his time, jabbing and picking his shots. Chisora did a little better as Fury took his foot off the gas.
In the fifth, Fury was connecting often on Chisora, who was coming forward and absorbing punishment. The sixth saw a slower pace with Fury just boxing and breaking Chisora down with accurate punches. The seventh saw Chisora pressing forward and going to the body. Fury was landing more hard shots that Chisora was taking.
Fury was connecting with hooks and jabs as the eight began. Chisora was rocked by heavy right hands. He was pounding Chisora against the ropes. Chisora came out pressing in the ninth, Fury was picking him off. The face of Chisora was swollen and bruised. Fury was landing at will and there wasn't much coming back from Chisora.
The tenth was more of the same, with Fury landing on Chisora and working him over. The referee had seen enough and stopped the fight.