Las Vegas, Nevada - In a high stakes junior middleweight fight, Sebastian Fundora (19-0-1, 13 KOs) got off the floor to stop Erickson Lubin (24-2, 17 KOs) in nine rounds. (photos by Ryan Hafey, Esther Lin)
Lubin started the first by landing a few sharp shots. Lubin was jabbing. Fundora was looking to make it an inside fight, but Lubin was keeping his distance and covering up when the were in close. In the second, Fundora was applying a lot of pressure and taking the fight to Lubin, who was willing to stand and trade on the inside. Fundora staggered Lubin's chin and dropped him with an uppercut in the closing seconds.
Fundora went right after Lubin at the start of the third. Lubin was landing solid counters and Fundora continued to come forward and throw a very high volume of punches. Lubin was really tagging Fundora with hard shots in the final minute. During the fourth, it was give and take with both throwing and landing hard shots. They continued to fight on the inside in the fifth, with Fundora doing the better work.
Lubin was jabbing well and countering at the start of the sixth. He was allowing Fundora to outwork him as the round played out. At the start of the seventh, Fundora rocked Lubin with hard uppercuts. The face of Lubin was being busted up. But Lubin came back with a high volume of hooks to send Fundora down hard at the end of the round.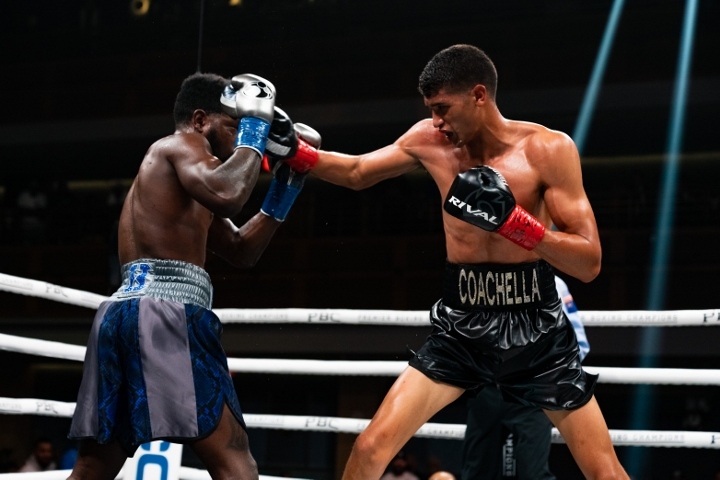 Fundora was able to outwork a tired Lubin in the eight. The face of Lubin was getting worse in the ninth, as Fundora continued to tag him up - and Lubin's corner stopped the fight once the round concluded.