Alamodome, San Antonio, Texas - For the WBC featherweight title, Rey Vargas (36-0, 22 KOs) became a world champion in a second weight class when he got off the floor to win a twelve round split decision over Mark Magsayo (24-1, 16 KOs). (Photos by Ryan Hafey)
The scores were 115-112 for Vargas, 114-113 for Magsayo and 115-112 for Vargas.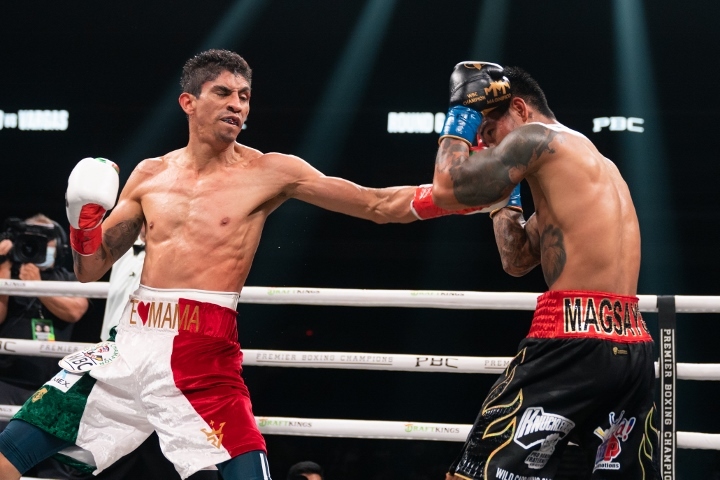 The action was close in the first, as they were both throwing a lot of power shots but not much connected flush for either. Both were throwing heavy hooks in the second. Each boxer was able to land well. Vargas was getting off more often and was fighting far more aggressive than in the past.
A quick exchange at the start of the third. Vargas was connecting more often with quick punches. A close fourth, with both having moments. Vargas was controlling the distance and was still landing more often. Magsayo did better in the fifth with punches to the body and jumping in with quick combinations. In the sixth, it was Vargas going to the body more often and id damage.
In the seventh, Vargas, who had a cut open above his left eye, continued to dig to the body. The jab for Vargas was landing well and he was still controlling the distance. Magsayo landed a good right hand that Vargas took very well. In the ninth, each connected with solid shots. Magsayo connected with a hard hook on the inside and sent Vargas down. Magsayo tried to follow up, but couldn't connect with more shots.
At the start of the tenth, Vargas landed three hard shots that Magsayo walked through. They were jabbing and looking for big shots. Magsayo was doing a little more as Vargas seemed to still be recovering from the prior round. In the eleventh, Magsayo was coming forward and taking the fight to Vargas. During the action, Vargas was rallying and landing well in the final minute.
In the twelfth and final round, both came out firing and looking to close strong. The action was very close with neither landing anything of note.