Manchester Arena, Manchester - In a high-stakes unification for the WBC, IBF, WBO junior middleweight titles, Natasha Jonas (13-2-1, 8 KOs) fought her way to a ten round unanimous decision over a determined Marie-Eve Dicaire (18-2, 1 KO). (photos by Lawrence Lustig)
The scores were 100-90, 98-92 and 97-93.
The speed and accuracy of Jonas was on display in the first. She caught Dicaire several times with hard shots. It was more of the same in the second, with Jonas being more sharper and more accurate.
Dicaire was unable to do much in the third and fourth. Jonas too quick and was able to connect nearly every time during close exchanges. Dicaire was much bigger in size, but unable to capitalize on that advantage. Dicaire did very well in the fifth, when she stayed in close and began to put her punches together.
Dicaire was pressing forward in the sixth, as Jonas was looking for counters. The quicker punches continued to land for Jonas. Dicaire was making it much closer by pressing and throwing. They were trading punches at close range in the seventh, with Jonas connecting better. Dicaire was able to withstand all of the punches and continued to come forward.
Jonas as mixing up the punches in the eight and ninth. Her quicker punches and accuracy were the big difference. Dicaire was trying to impose her size on Jonas to wear her down. At this point, the nose of Dicaire was busted open and the blood was really flowing.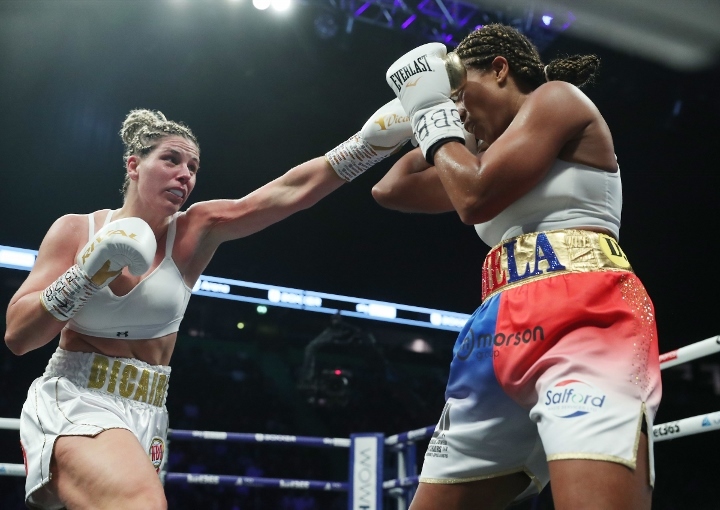 In the tenth and final round, Dicaire was really pushing forward. Jonas was landing punches as she came inside, but trhe action was close. Dicaire was throwing punches in bunches. Jonas was able to avoid a lot of the shots and connected with the harder, more eye-catching blows.