Matchroom Fight Camp, Brentwood - For the vacant IBF featherweight world title, Kid Galahad (28-1, 17 KOs) beat down and stopped Jazza Dickens (30-4, 11 KOs) for a stoppage win in eleven rounds. (photos by Mark Robinson)
Galahad stopped Dickens in their first encounter, which took place eight years ago.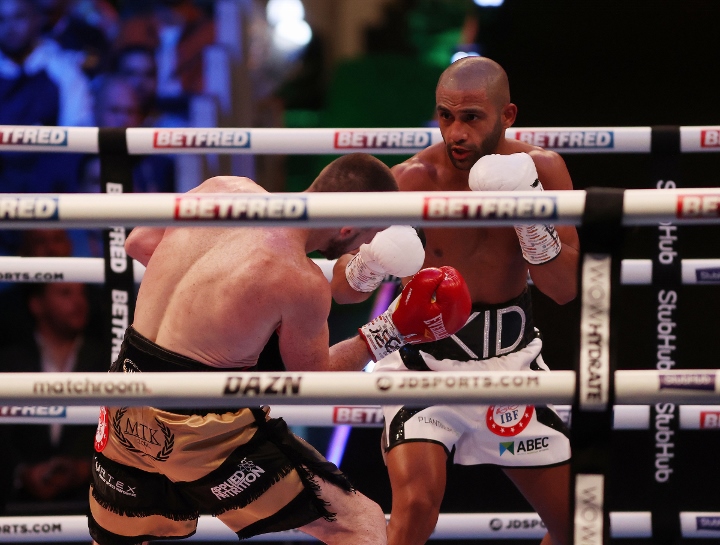 A tactical boxing match in the first round. Both had their moments with landed punches. Dickens landed the more telling shots of the two. Dickens suffered a small cut above the left eye.
In the second, the tactical clash continued. Galahad was jabbing well and switching stances often. Dickens was doing well, but also getting caught more often. During the third, they were fighting more at close rang. Dickens was connecting well with his counters. Galahad was targeting the body and pumping out his jab at all times
During the fourth. Galahad's jab was the story of the round, as he used it to set up his other punches. More of the same in the fifth, with Galahad controlling the action with his jab. In the sixth, the jab of Galahad continued to create a lot of issues for Dickens, who was bleeding from the nose and the cut above the eye.
In the seventh, Dickens was rallying with several shots that landed on the chin of Galahad, who took them well and came firing back with jabs and shots to the body. Galahad's jab continued to pump out in the eight, with body shots following. Galahad was putting together short combinations that were working Dickens over.
The face of Dickens was really getting busted up in the ninth with Galahad picking up the pace and doing more damage. More punishment was dished out by Galahad in the tenth, with damaging shots connecting. Galahad lost a point for continuously stepping on the feet of Dickens. Galahad continued to control the action in the eleventh, as he was putting his punches together and lighting up Dickens.
The fight was stopped at the end of the eleventh, as Dicken's corner had seen enough and waved off the fight.