Mandalay Bay, Las Vegas - In a crossroads welterweight battle of former champions, Keith Thurman (30-1, 22 KOs) looked sharp and refreshed in busting up Mario Barrios (26-2, 17 KOs) to secure a dominant twelve round unanimous decision win. (photos by Ryan Hafey)
The scores were 117-111, 118-110, 118-110.
Thurman was fighting for the first time since his decision loss to Manny Pacquiao in July of 2019. Barrios was coming of a 2021 knockout loss at the hands of Gervonta Davis.
Thurman was coming forward at the start of the first, applying pressure on Barrios. It was a slow pace with a feeling out process. Thurman as picking his spots during the second, as it was still a close pitched fight with each boxer starting to throw more.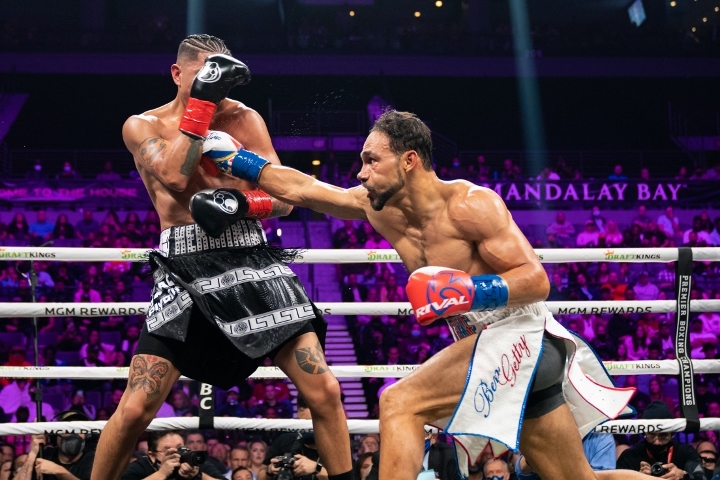 Both were connecting during the third, with Thurman landing flusher shots. In the fourth, Thurman's shots were starting to do damage and wobble Barrios. He was able to get away from Barrios' counters. Thurman was dominant in the fifth with heavy punches.
In the sixth, Barrios was standing his ground with shots to the body. He was still being outlanded by Thurman. More of the same in the seventh. During the eight, Barrios' left eyelid was busted wide open and he was rocked by a Thurman right hand. Near the end of the round, Thurman was hurt a bit by a hard body shot.
Barrios was starting to counter Thurman in the ninth, as the veteran was getting a little careless. In the tenth, Barrios appeared to hurt Thurman again to the body. Barrios was pressing forward and applying pressure on Thurman, who was moving often and picking his punches.
Thurman was boxing and not really taking chances in the eleventh. Barrios was pressing forward, but not really able to land. In the twelfth and final round, Thurman continued to box and Barrios was pressing and looking to make something happen. Thurman was landing the harder shots to the head and body.