Hard Rock Stadium, Miami, Florida - In a sanctioned exhibition fight, former five division world champion Floyd Mayweather (50-0, 27 KOs as a pro) and Youtube star Logan Paul (0-1 as a pro) went the full eight round distance. (photos by Amanda Westcott)
Per the exhibition rules, there was no official winner.
Paul, 26, had his sole fight as a pro in 2019, when he lost a controversial six round decision to Youtube rival KSI.
The 44-year-old Mayweather retired from the sport in August of 2017, when he stopped Conor McGregor in ten rounds.
When the contest began, Mayweather was moving around the ring Paul was trying to land something, but missing. Paul unloaded with a lot of punches at the end of the round, but Mayweather blocked most of everything.
Mayweather continued to move in the second, Paul looking for shots that weren't landing. There wasn't much from either, but Mayweather landed two accurate punches. In the third, Paul was doing a lot of holding Mayweather came in close. Mayweather was landing small shots on the inside. Paul was landing punches as well, but they were not flush - while Mayweather was doing accurate work and starting to land often.
In the fourth, Mayweather continued to come forward and looking to land something big. He was catching Paul with the accurate shots and wasn't worried about Paul's counters. Paul seemed to be very tired and doing a lot of holding when the round concluded.
Mayweather was connecting but also missing in the fifth. Paul was not doing too much, appeared to be winded and was taking shots. Paul's size allowed him to take the shots, but he was forced to hold on more than once.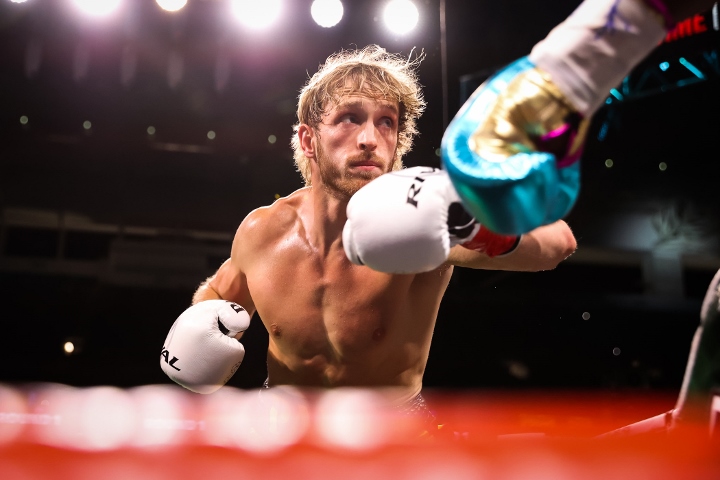 During the sixth, Mayweather was coming forward, looking to connect with finishing punches. Paul was on the move, missing his jab and looking to avoid further damage. The left eye of Paul was swelling up.
Paul was trying to land something when Mayweather walked in during the seventh. There was a lot of holding and wrestling as Mayweather was coming forward.
The crowd was not happy that Paul was entering the eight and final round, as the boos rained down. Mayweather was controlling the action and there was still a lot of holding.