Hard Rock Seminole Hard Rock Hotel & Casino Hollywood, Florida - For the WBO middleweight title, Demetrius Andrade (30-0 18 KOs) retained his title with a hard-fought twelve round unanimous decision over mandatory challenger Liam Williams (23-3-1 18 KOs). (photos by Ed Mulholland)
The scores were 116-111, 118-109, 118-109.
Andrade came out firing in the first round, and had Andrade on unsteady legs when several big punches connected flush. Andrade was very accurate with his left hand, connecting hard on Williams, who was forced to hold on several times. The right eye of Williams was swelling bad.
Williams came out pressing the second, but he was wobbled again from a combination of punches. A moment later a big combination sent Williams down on the seat of his pants. He made it up just before the count of ten.
Williams went back to pressuring Andrade in the third. He was starting to land a bit, with Andrade doing a lot of holding but landing well too. In the fourth, Williams did very well and pressing most of the action. Andrade had a better fifth, as he connected with the better punches.
In the sixth, Andrade was moving well, boxed well and buzzed Williams with big uppercuts. Andrade continued the same strategy in the seventh. Williams was doing well in a close round, but then Andrade rocked him in the final seconds. The action was close in the eight. Williams was pressing the action, but Andrade was connecting more often.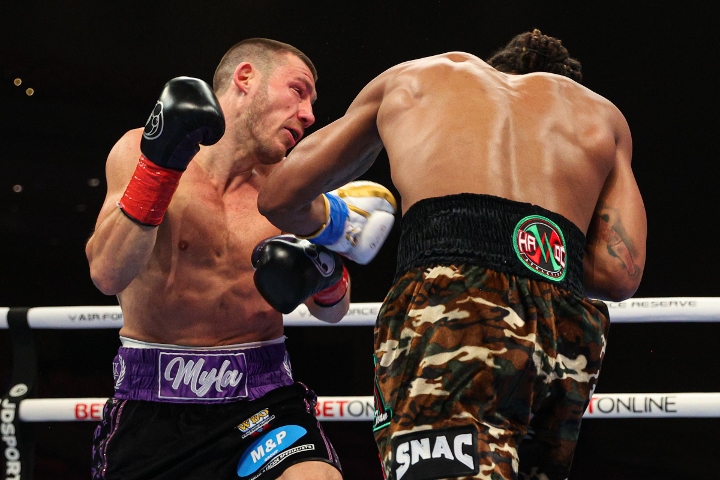 Williams had a very good ninth with his workrate and seemed to hurt Andrade with a big right hand. Williams continued to press in the tenth, but Andrade was doing most of the connections. The eleventh had Andrade on the move and Williams looking to do damage. Andrade was very elusive and landing sneaky punches.
In the twelfth and final round, Williams was pressing and Andrade landed a big hook. He took it well and kept coming. Williams was not landing enough, with Andrade picking his spots.