MGM Grand, Las Vegas - In a grudge match between two former super middleweight champions, David Benavidez (28-0, 23 KOs) came alive in the second half of the fight with an arsenal of damaging punches to secure a twelve round unanimous decision over Caleb Plant (22-2, 13 KOs). (photos by Esther Lin, Stephanie Trapp, Ryan Hafey)
The scores were 115-113, 116-112 and 117-111.
It was a pretty cautious start for both. Benavidez started very slow, with Plant jabbing and using the ring. Plant began the second by letting looses with a combination and then went back to the jab. Plant was boxing, throwing accurate punches and using his legs.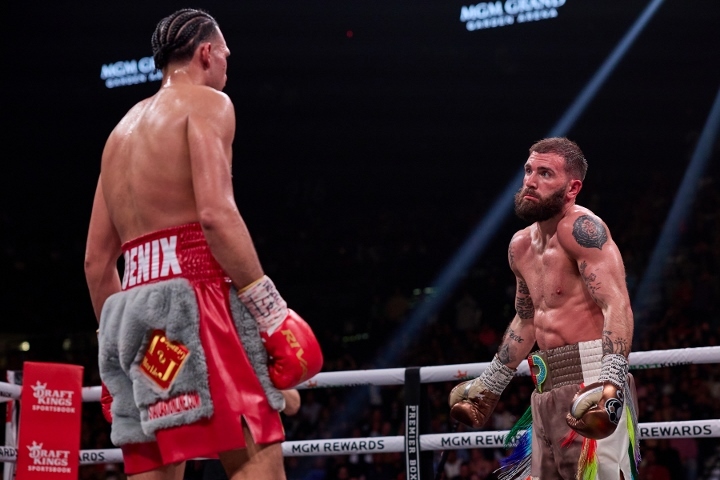 Benavidez was starting to land more often during the third, with Plant still giving him fits with his boxing and movement. Plant would hold every time Benavidez got too close. During the fourth, Plant loose with a series of punches and was jabbing well. Benavidez connected with a combination, but he was being outboxed.
Benavidez was allowing Plant to let his hands go, looking to connect with a counter in the fifth. Plant was outworking and outboxing him. During the sixth, Benavidez was trying to chase him down. he was able to land a few punches but also missing quite a few. In the seventh, the action was close. but Benavidez was managing to connect more often. Plant made it very close with connects of his own.
Benavidez began to land with hard shots during the eight. Plant was rocked by gook and he was starting to get hurt bad. Plant was holding on for dear life and there was a clash of heads that opened up a cut on Plant's forehead. The ninth began with Plant landing a big low blow and received a hard warning. Plant was letting his hands go, trying to keep Benavidez away. Benavidez was stalking and landing the bigger punches.
In the tenth, Benavidez was battering Plant with heavy punches to the head and body. Plant was rocked several times by big punches and seemed to be ready to go during the end of the round. During the eleventh, Benavidez was stalking and landing heavy punches that were breaking Plant down and hurting him. Plant held on several times as he was taking a beating.
Plant was game, going out on his shield at the start of the twelfth. Benavidez continued to land the bigger and more damaging punches. Plant continued to get tagged to the head and body to the bell.