Unbeaten two-time world champion David "El Bandera Roja" Benavidez returned to his hometown of Phoenix for the first time in six years and closed the show in spectacular fashion, scoring a seventh-round TKO over contender Kyrone Davis in the main event of action live on Showtime from Footprint Center in a Premier Boxing Champions event. (photos by Stephanie Trapp)
The 24-year-old Benavidez (25-0, 22 KOs) displayed a full arsenal of punches to dispatch a valiant effort from Davis (16-3-1, 6 KOs), who stepped in to fight the WBC's No. 1 super middleweight contender on just two weeks' notice. Davis showed incredible heart and guts, taking extreme amounts of punishment throughout the fight but he never hit the canvas and no matter how many punches he was hit with, he always returned the fire.
Davis' trainer, Stephen "Breadman" Edwards, put an end to the punishment at :48 of round number seven when he threw in the towel.
With November 13 officially being named "David Benavidez Day" in Phoenix, the boisterous crowd at Footprint Center urged their hometown hero on with every punch. Benavídez landed 137 of 258 power punches (51 percent) and targeted Davis' body throughout the fight. He connected on 50 body punches, 45 of which were power punches.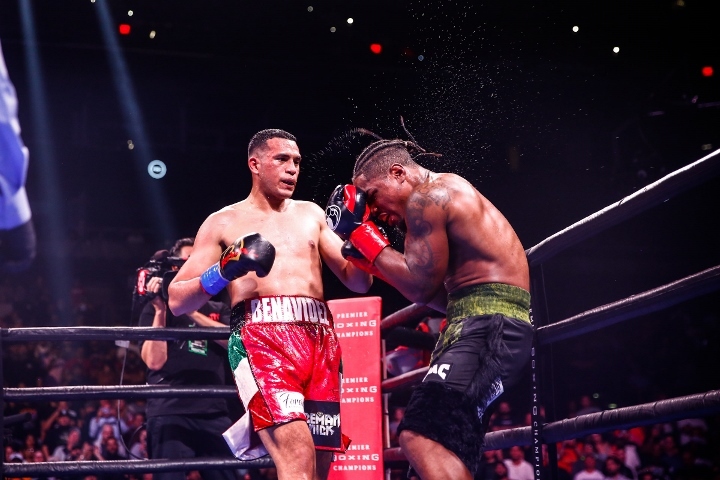 The 27-year-old Davis played his role in the crowd-pleasing main event and earned the respect and admiration of everybody watching.
With the unbeaten streak to start his career still intact, Benavidez, the former two-time super middleweight champion, now has his sights set on a mega-fight at 168 pounds.