T-Mobile Arena, Las Vegas - WBC super flyweight champion Jesse 'Bam' Rodriguez (17-0, 11 KOs) won a twelve round unanimous decision over Israel Gonzalez (28-5-1, 11 KOs) in a fight that was much tougher than expected. (photos by Ed Mulholland)
The scores were 118-109, 117-110 and 114-113.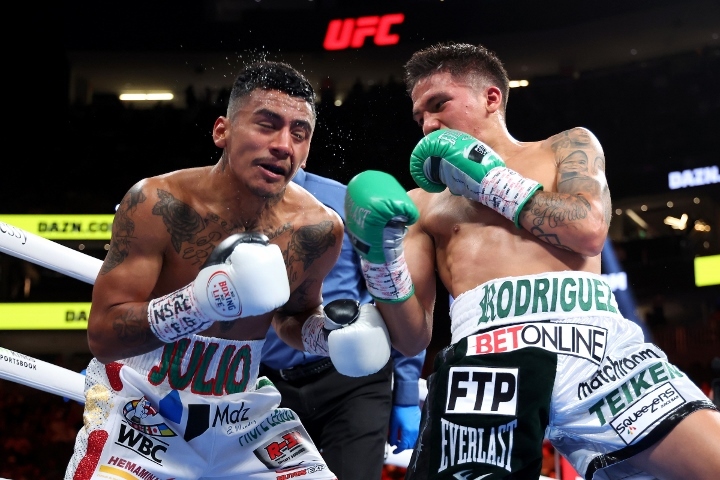 A feeling out round to start off the fight. The action picked up in the second with give and take action. Rodriguez was pressing forward win the third, but Gonzalez was targeting the body to push him back. Rodriguez was moving side to side and changing directions to land punches. 
Gonzalez was starting to really come on in the fourth, with his bigger punches connecting. Gonzalez stood his ground and began to rally with shots to the head and body. The fight was give and take with the action heating up. In the sixth, Rodriguez was applying a lot of pressing and coming forward to push Gonzalez back. The two were trading good shots at close range, with both connecting well. Rodriguez was connecting with the harder punches, especially to the head.
The inside fight continued in the seventh, which benefited Rodriguez as they were trading good punches. They began the eight with a close exchange of quick punches. There was a clash of heads that opened up a cut above the left eye of Gonzalez. The action was really close. Rodriguez matching the output of Gonzalez and made things very tough for him. A point was taken during the round for a low blow landed by Rodriguez.
Both came out with a lot of output in the ninth and they were trading at close range much of the way. The same played out in the tenth, as they were standing at close range and trading shots. Rodriguez was connecting with the bigger punches. Rodriguez was taking the fight to Gonzalez in the eleventh. He was really pressing forward and going after him with punches to the head and body. There was another low blow that sent Gonzalez down, but no point was deducted this time.  In the twelfth and final round, both were landing in close. Rodriguez continued to land the harder shots and more eye-catching shots.