Carson, California - In a crossroads heavyweight contest, former unified champion Andy Ruiz (34-2, 22 KOs) had to survive an early scare to win a twelve round unanimous decision over veteran Chris Arreola (38-7-1, 33 KOs). (photos by Sean Michael Ham, Ryan Hafey, Fox Sports)
The scores were 117-110, 118-109, 118-109.
Both came out with the jab. Ruiz's faster hands were connecting well and he was able to avoid Arreola's counters. Ruiz landed a quick combination in the second, but then he was dropped by a counter right from Arreola. Ruiz seemed to be fine and landed a counter on Arreola to back him off. Near the end of the round, Arreola once again rocked Ruiz with punches.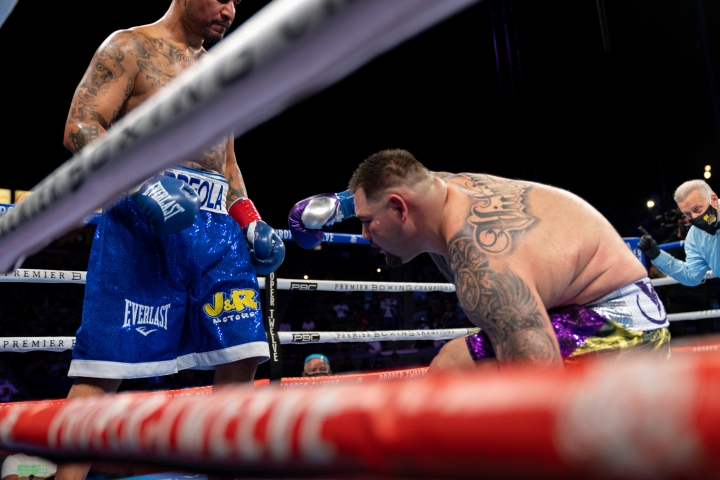 Arreola rocked Ruiz at the start of the third and nearly dropped him again. They were trading away with big shots. Arreola was able to connect with solid shots as the fists were flying. Ruiz was stalking Arreola, who stayed on the back foot and was looking for counters. They traded again at the end of the round with Ruiz landing well.
Ruiz was able to box well in the fourth, landing good jabs to the body and short punches to the head. They were picking their shots in the fifth round. Ruiz had the edge with the better shots landing. The fast hands of Ruiz were landing at the start of the sixth. He was landing solid shots as Arreola tried to come inside.
In the seventh, Ruiz was getting off better and throwing combinations. They were trading at the start of the eight, with Ruiz having the edge for most of the round. Ruiz continued to land the better punches in the ninth, with not much coming back from Arreola.
During the tenth, Ruiz continued to connect with jabs to the body and hooks to the head. Arreola has been favoring his shoulder since getting hit there earlier. Ruiz was outlanding him in the eleventh with solid punches. In the twelfth and final round, Ruiz was outlanding Arreola with big punches for the majority of the round.