Los Angeles - In a high stakes heavyweight fight, former unified world champion Andy Ruiz (35-2, 22 KOs) needed three knockdowns to win a twelve round unanimous decision over Luis Ortiz (33-3, 28 KOs). (photos by Ryan Hafey)
The scores were 113-112, 114-111, 114-111.
Ortiz came out pumping a calculated jab in the first Ruiz was starting to get going, before Ortiz clipped him with a big combination that pushed him back. To start off the second, Ruiz landed a big hook to push Ortiz back. As they traded punches, Ruiz dropped Ortiz with a solid counter right. Ortiz was really shaken up as beat the count. A second knockdown call was issued when Ortiz went down again, but it seemed to be more of a slip. As Ruiz went after him, Ortiz was able to catch him with a few big shots to weather the storm.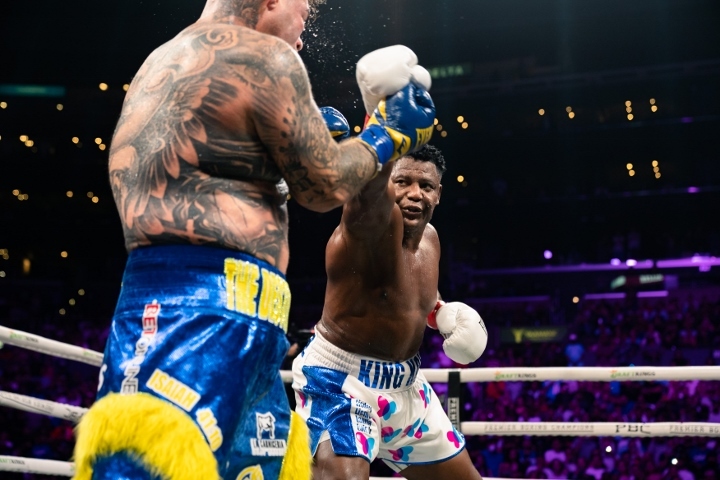 Ortiz was working the jab and targeting the body in the third. Ruiz didn't land much, but connected with a body shot to the belly that seemed to hurt Ortiz. Both were very cautious in the fourth, with mostly the jab coming from Ortiz, who continued to go for the body. 
In the fifth, Ortiz was sticking to his jab and letting his hands go a little bit more. Both were still pretty cautious. Ortiz was jabbing, pressing and starting to let his hands go in the sixth. Ruiz was looking to counter and at times was connecting, but Ortiz was landing well. The seventh saw Ortiz mostly sticking to his boxing. Both were landing in close, but Ortiz was pumping the jab for most of the round. Ruiz then let his hands go in the final moments to drop Ortiz for a third time.
The eight began with Ortiz jabbing. The left eye of Ortiz was swelling bad at this point. They were trading punches with both connecting in close. Ruiz came out firing in the ninth and had Ortiz backing up. Ortiz began to come back with a few in the closing moments. In the tenth, Ortiz was really boxing well and had Ruiz at the end of his jab.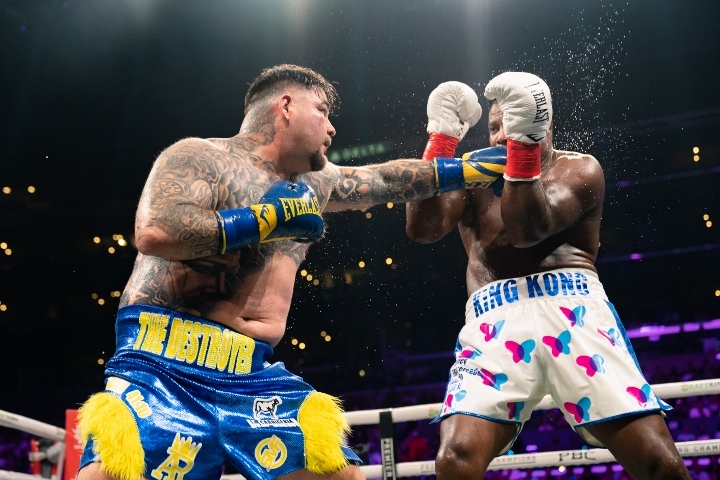 During the eleventh, Ruiz was letting his hands go a little more at the start. He rocked Ortiz was a good hook and went after him with a few more shots. Ortiz was trying to get his jab going, but Ruiz continued to land with quick bursts. The left eye of Ruiz was nearly swollen shut. In the twelfth and final round, Ortiz came out pressing and was landing heavy shots on Ruiz, who was shooting counters. Ortiz was going for a knockout it seemed, but Ruiz takes a very good shot and was answering back with shots of his own.