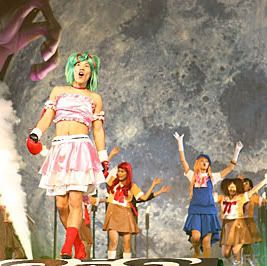 I was watching clips from this last Japan max when I came across Nagashima's ring walk. Nagashima is into cosplay, a huge subculture in Japan. Screw it man… his fighting wasn't memorable at least his ring entrance was.
..
Japanese Otaku Kickboxer challenges K-1 WORLD MAX
Uploaded by BOXEN99
..
I appreciate it when these guys get out there and do their thing. Not only are they going out there to throw down, but they're putting on a show. I know I would have the sack or the personality to enter a ring like these guys.
I think these two guys stick out in my mind as the craziest ring entrances. Prince Nasseem was someone I was a closet fan of. His **** talking and swagger are things I dislike about athletes. That being said he was so far out there… that it was tough for me not to appreciate it
I remember watching this fight… I remember I was laughing my ass off. Especially when he KO'd the skull. It's so over the top, camp whatever that It's one that I'll always remember.
Genki Sudo, I think this dude is a P-I-M-P. By far my favorite when it comes to insane ring entrances. Ok, I'll get off his nuts now… I think he's easily got the craziest ring entrance out of any fighter not in professional wrestling.
Of all the Thai Nak Muay Ramba M-16 (one of my favs) he might actually have the most colourful ring entrance. This obviously isn't part of Nak Muay culture in Thailand, but I know most of them love fighting abroad and it shows. They get to play, and put on a show.