https://store.steampowered.com/app/320240/We_Happy_Few/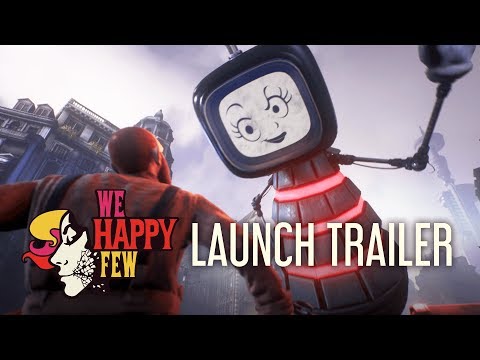 Played from a
first-person perspective
, the game combines role-playing, survival, and light
roguelike
elements. Taking place within the mid-1960s, following an
alternative version
of
World War II
, players take control over one of three characters, each of whom seek to complete a personal task while escaping the fictional city of Wellington Wells – a crumbling
dystopia
on the verge of
societal collapse
, due to the overuse of a
hallucinogenic
drug that keeps its inhabitants blissfully unaware about the truth of their world, while leaving them easily manipulated and lacking morals.
The developers focused on creating a story with strong narratives, while underlining gameplay with a sense of paranoia, and designing in-game decisions that are of moral gray areas and weight, which influence and affect later parts of the game. Design of the game's setting was based on various elements of 1960s British culture, with the developer, Compulsion Games, seeking inspiration on dystopian societies from various influences in the media, such as
Brazil
,
Nineteen Eighty-Four
,
Animal Farm
,
Fahrenheit 451
,
Brave New World
, and heavily on the
MaddAddam
trilogy. Work on the game began with a
Kickstarter
funding campaign in 2015, before the developers were acquired by
Microsoft Studios
in 2018, supporting the developers to work on a version for the Xbox One.
https://en.wikipedia.org/wiki/We_Happy_Few