Why Hatton vs Pacquioa is 50/50 pick em..
This may just be the biggest Mega Fight in 20 years that may actually live up to all the prefight hype. I mean since the days of Hearns hagler and Sugar Ray we have not seen the best fight the best. To me this would have been hog wash and everyone would have laughed this off if not for Pacman kicking De la hoya around the ring last December. So at least we have De La Hoya tro thank for this fight even being possible.
Why I see this fight as being 50/50 pick em well let me explain....
HATTON
is a brawler by nature.
In past fights it was just what he did he moved forward lead with his face and swong for the fences.
His vicious body attack and inside fighting will be the main factor here. I mean all the talk about having Senior in his corner has been mauled and spoke about. Having a new trainer doesn't always benefit a fighter it can even sometimes screw up a fighters rhythm. Fighting is all about getting into a rhythm and stopping the other guys rythem we should know that. So having someone in your corner that is telling you to do something that you may or may not be used to can sometimes screw you up and not allow you to get off. That split second it takes you to think about what you are going to do and actually doing it can be the difference between you landing a punch and taking one. To me Senior make a difference only if Hatton takes what he learned in the GYYM and actually executes it on fight night. And ONLY if Senior is as good as he says he is. Locatiing a fighters weakness and giving his fighter the knowledge to expose it come fight night. With all that taken into consideration. I think Floyd Senior is the best of the best and Ricky looks determined to prove himself and wants to hold the P4P Champion title. I mean if not he might have opted for a different fight and let the negotiations fall through. The fact he is fighting Pacman alone tells me he is hungry for more than $$$. He will pick up the much needed tools from Senior and use them come fight night. That and the combination of his fierce brawling style and vicious body attack should give Pac all he can handle.
What has Hatton learned from senior and is he going to be to execute it come fight night?

How is Hatton going to react and deal with Manny's speed?
PACMAN
is also a brawler by nature.
In the past he was a one handed fighter.
He relied strictly on his left hand and usually his straight left was more then enough to seal the deal. Not the case now with every fight we have seen more and more improvement in his boxing skills. In the past watching his fights I can recall Emanuel Steward stating how he left himself off balance after punching and out o fposition. Specifically in the fight with Diaz he used combinations and featured not only his left hand that we have seen so much off but also a devastating right hook. I remember Emanuel Steward commenting on his improved foot work and his deffense. Stating how he recalled PACMAN leaving himself off balance in past fights but that not being the case now. How he recalled PACMAN getting hit with alot of punches but how he was picking off shots with his gloves and making Diaz miss him. His one two combination was unstoppable in the De la hoya fight and he was able to lead with his straight left and land at will. De la Hoya was unable to make him nor could he answer him back. The combination of speed and power was evident at 147. Roach is also good at pointing out fighters weakness and giving his fighter the tools to use come fight night. He has proved that in his progress with Manny. Manny with the absence of Floyd many consider to be the P4P figher in the world. This is credited to Freddie's work and the improvement we have seen with manny each fight. The one thing I did see back in December and I don't know if any of you saw it too was Oscar was able to touch manny's body early on and hurt Manny. To me this is the one factor of the fight where Manny is vulnerable more than many of us may think. The latter also speaks true in that Roach although he is good at finiding a weakness in a fighter may be at a loss this time since Senior is in Hattons corner. This may make prior tapes of Ricky a non factor and obsolete as Ricky's style may change dramatically for this fight. The insde fighting of Hatton may give Manny all he can handle and since to me Manny has not been hit by a true 140lb fighter his chin is a BIG question mark.
How is Manny going to react to the power of Hatton's punches?

Is Manny going to be able to deal with Hatton's fighting on the inside?
For me the fight is truly a 50/50 pick em fight......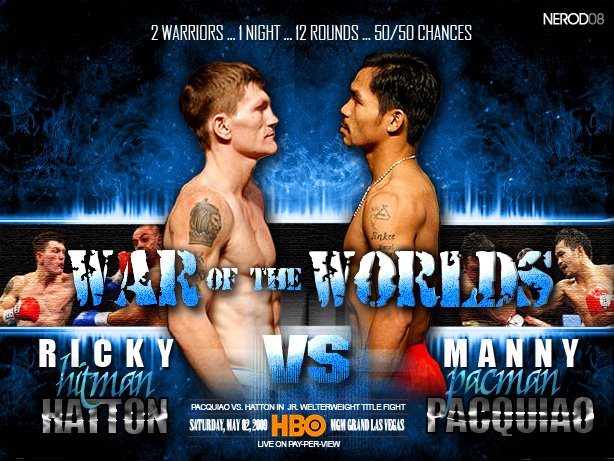 Views
2017
Comments
1
Comments